Lollapalooza
Grant Park, Chicago
Friday, August 1 — Sunday, August 3, 2008
From Illinois Entertainer Dot Com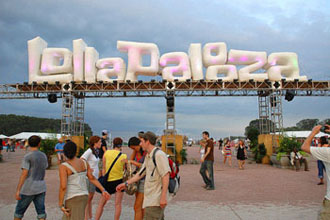 It takes a certain type of person to do the whole three-day festival thing. The lines, the prices, the sun . . . the portable toilets. It's not easy, or always fun. Lucky for IE we have Andy Argyrakis, Jamie De'Medici, and Timothy Hiatt, who volunteered to battle the sweltering summer heat and moshing mad Rage Against The Machine crowd to provide the words and pictures (click here for the entire gallery) of Lolla 2008.
FRIDAY, AUGUST 1 
The Black Keys
Offering their own take on blues-punk, The Black Keys moved through a loose and laid back set, full of messy guitar jamming and fast but fine-tuned drumming. While it would be hard to classify the outfit as stadium rock, the group's sound did translate surprisingly well into the wide open Grant Park air. Moods alternated between songs, from the playful and hooky "10 A.M. Automatic" to the more ominous, like on "Strange Times," with the band holding their own on a day distractingly full of talent.
Bloc Party
On record, Bloc Party have always been inconsistent. For every engaging moment, there are a dozen more that seem little more than filler. So it's not surprising that onstage, Bloc Party were primarily and inoffensively inconsistent. The unassuming "Waiting For The 7:18″ served as a perfect complement for the late atmosphere, with drummer Matt Tong elevating the song beyond its fey recorded ballad form. And the early single "Banquet" still holds up as a strong indicator of the group's potential for melodic, well crafted U.K. rock. Unfortunately, for every dynamic and engrossing performance the group delivered, they waded through a handful more that served as little more than background noise. With a 20-minute set, Bloc Party would have been brilliant.
CSS
Brazil's CSS, or Cansei de Ser Sexy, stood as one of Lollapalooza's most playful acts. Led by living cartoon character Lovefoxxx, the outfit delivered a series of irreverent electro-bangers and straight up girl-led brat-rawk. Tunes like the synthy "Let's Reggae All Night" and iPod anthem "Music Is My Hot Hot Sex" demonstrated the group's palpable energy, which spread through a packed crowd that showed up to dance in spite of the overbearing afternoon heat. While it would be hard to claim CSS' music holds any sort of substance, by being irreverent and not taking themselves too seriously, the group also ended up as one of the day's most enjoyable acts. Coincidence?
Radiohead
Unfortunately, a fun and playful vibe was nowhere to be found at the south end of Grant Park that night. Perhaps the most disappointing, underwhelming, and puzzling set came from Friday night headliners Radiohead. With no other talent closing out the north end of the festival, the day's collective attendees flocked to the AT&T stage, forming a sea of bodies that extended back from the base of the stage. It was a mass decision that made sense; the last time Radiohead touched down in Grant Park was in 2001, for a legendary performance those who witnessed still discuss in revered tones.
Yet the Radiohead that visited seven years back was nowhere to be found. Instead, the group that showed up played as though they were afraid to wake the neighbors. The evening's quietest songs barely reached to the end of the crowd, with "Fake Plastic Trees" nearly drowned out by mid-set fireworks. While the band played fairly competently — if not quietly, Thom Yorke sounded bored, disinterested, and distracted (reports were he was ill). It didn't help the group moved through all of its sleepiest songs, which asked the question — didn't Radiohead use to have songs that weren't this medicated? Even more frenetic fare such as "Paranoid Android" came off weaker than usual, with what little energy it managed to display coming across as too little, too late. Or, as Thom's own words, Radiohead themselves set off "no alarms" with "no surprises," leaving a crowd wishing "that something would happen."
SATURDAY, AUGUST 2
The Gutter Twins
Saturday afternoon, Greg Dulli and Mark Lanegan came out for their Gutter Twins project, unleashing dark and moody rock that came off livelier than when the group played Metro this past spring. Case in point, the roaring "Idle Hands" was a beast unleashed on the unsuspecting and casual midday concertgoers, and would not be the last example of music that seemed surprised to find itself in the daylight. Not surprisingly, the group moved between the pair's numerous outfits, including Dulli bringing out Twilight Singers highlight "Bonnie Brae." It seemed appropriate Dulli and Lanegan would find themselves at Lollapalooza, as both are weathered veterans of the original alternative nation, and are likely to still be performing after many of the weekend's blog-hit hype groups have faded from collective memory.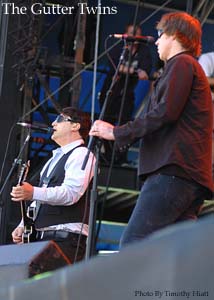 MGMT
On the opposite end of the veteran spectrum, on a stage not far away, came MGMT, a band that just this year began receiving any real attention. The group delivered a set full of new-alt that switched between jangly and surprisingly psychedelic moods. Live, an undeniable love of classic rock shone through in the group's performance — full of swirling melodies and freeform jamming grooves. That was on top of the hipster-pleasing electro-tinge the band dipped so well into, apparent on the well-recieved "Time To Pretend" and twanging bass-driven "Electric Feel." The real highlight of the set, however, came on "Kids," also the high point of the outfit's Oracular Spectacular. Unleashing Satriani-esque(?!) guitar solos that shredded throughout the extended jam, the song devolved by its end with the band banging randomly on their keyboards and smearing messy, chaotic licks and effects across their sound. As much unpredictable and startling as anything else, it seemed MGMT, as well as anyone there, understood the spirit behind Lollapalooza, which made their set a stand-out amongst everything louder than everything else.
Brand New
Nowhere near as celebratory was Brand New, veterans of the Warped genre and renowned for basically being total downers. Which is in no way a hindrance, rather it's easily one of the group's primary drawing points. Not unlike the Gutter Twins before them, most Brand New material seemed almost laughably out of place floating out in the sunny mid-afternoon field of happy concert-goers. Fortunately, that did little to hinder the somber and sobering tone of favorites like "Millstone" and the remarkable pinnacle of depression "Jesus Christ." Elsewhere, "Okay I Believe You But My Tommy Gun Don't" amped the energy of the group's set, and "Sig Transit Gloria" better demonstrated the group's more punk tendencies. It had to be "Sowing Season (Yeah)," however, that best bridged both sides of Brand New — the group's morose tone with their larger, arena punk pop sensibilities. In a weekend full of dance-prompting, synth-laden feel-good acts, it was refreshing to have a group so entirely embrace a darker aesthetic.
Lupe Fiasco
Taking a cue from his mentor Kanye, Lupe Fiasco demonstrated a flair for the theatric right from the get-go — coming out to the Rocky theme, and doing a few minutes worth of stretches and even jumping jacks onstage, to prepare himself for his lively and high-energy set. However, unlike his notorious teacher, Fiasco demonstrated his sense of class and showmanship in a more mature, and far less ego-driven, manner. Likewise, Fiasco made his constant motion seem natural — no small feat in front of such a mass crowd. Delivering crowd-pleasers like his introductory hit, "Kick, Push," and the anthemic "Superstar," Fiasco easily won over the assembled early evening crowd. Very much the son of the Chicago hip-hop scene, Fiasco unleashed the speed-rapping of Twista ("Go Go Gadget Flow"), while displaying the showmanship of Kanye and drawing upon the depth of Common.
Wilco
While Rage Against The Machine fans were raging against the festival's fences and proving '90s reunion acts can still inspire '90s-esque destructive crowds, Wilco were across the park, performing a very different — and Obama-free — type of set.
Onstage, Wilco weren't necessarily miles away from Radiohead, in terms of producing more mellow and mature alt-rock. Yet, unlike Radiohead, Wilco not only managed to project beyond a 20-foot scope, the group did so interestingly and memorably. "I Am Trying To Break Your Heart" might have been a bit tender, but it connected with the well-behaved crowd, as did "Impossible Germany." "Handshake Drugs" built its soulful energy and victorious spirit into a wall of noise and feedback by its end, and "Pot Kettle Black" still stands as one of Wilco's most enjoyable and unassumingly infectious accomplishments. Wilco may have mellowed with age, but, unlike certain other alternative icon headliners from this past weekend, they refuse to sleepwalk through their show. 
SUNDAY, AUGUST 3
Kid Sister
Early in the day Sunday, Chicago rising star Kid Sister braved the brutal heat with Flosstradamus (with J2K on vocals and Autobot on the decks). Kid Sis bounded through an energetic set that was all dance moves and ridiculous banter. Despite her forthcoming debut,Dream Date, not dropping yet, she debuted new and unheard material, alongside better known blog and club hits like the undeniable "Control" and the infamous "Pro Nails," the latter of which featured back-up dancers in Salt-N-Pepa-esque outfits.
The Whigs
The attention Athens, Georgia's The Whigs have received derives from an indie-tastic brand of power-pop. Thankfully, the group avoid the negative connotations that usually accompany such descriptions, with the band never coming off too jangly or twee. Rather, they ripped through intense and echo-laden numbers, such as "Like A Vibration," which was enhanced in no small part by frenzied but focused drummer Julian Dorio. And "Right Hand On My Heart" found a hypnotic groove and went with it. It's debatable whether The Whigs will end up being the next indie saviors to come out of R.E.M.'s hometown. But they're certainly off to an auspicious start.
Black Kids
While the group showed promise and raised intrigue with theirWizard Of Ahhhs EP, onstage, Black Kids delivered little to no surprises. Playing through a safe and straightforward set, the group delivered a few moments of passion here and there, with some half-hearted attempts at stage banter, but ultimately, delivered little that was memorable, dangerous, or otherwise noteworthy. Thankfully, the next act up would more than make up for it.
Saul Williams
Saul Williams is a cross-genre amalgam, mixed with a style-triapsing anomaly, to put it simply. Drawing from his Trent Reznor-produced The Inevitable Rise And Liberation Of NiggyTardust!, Williams held the attention of a rapt and captive audience. It wasn't hard to understand why — the man himself was outfitted in yellow jeans, a teal shirt, a face-painted eye mask, and feathers on his head. It seemed fitting enough though, given Williams' music is at once confusing, intriguing, and altogether puzzling. Yet it was perhaps Williams who best encapsulated everything Lollapalooza was originally about — dangerous, confusing, and impossible to classify. Williams gave the crowd something to think about while still being entertaining, no easy feat, as too many acts on the weekend's bill did neither. In a better world, he would've ended up alongside Nine Inch Nails, instead of a sidenote, when he has already far surpassed Reznor's modern works. 
Nine Inch Nails
It seems a safe assumption to guess Trent Reznor arranged it so his band would take the stage following recently reformed goth forefathers Love And Rockets. It's also fitting, seeing as Nine Inch Nails themselves are reaching a certain level of elder status. The group are also racing toward the alternative genre's ever-expanding harmless and inessential list, alongside the reformed Smashing Pumpkins and the puzzlingly still active Pearl Jam. Whereas the band were once dangerous, later albums like With Teeth, Year Zero, and The Slip have confirmed NIN's music is at its most remarkable when Reznor is at his most self-destructive. The muscle-rock of The Slip — which came out early in tracks like "1,000,000″ and "Letting You" — is inconsequential when delivered alongside more ferocious fare like selections fromBroken ("Gave Up") and The Downward Spiral ("March Of The Pigs"). And while age hasn't softened the brutal impact of Nine Inch Nails' classic efforts, it has softened Reznor himself. As his studio albums devolve into masturbatory exercises in soulless and efficient studio mastery, fans will no doubt become more and more grateful Reznor and his hired guns still dip into an accomplished back catalog. (JD)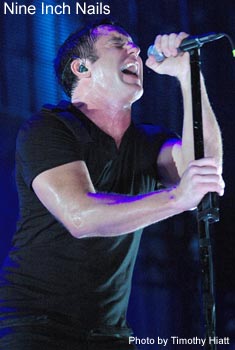 Kanye West
One of the festival's biggest surprises came during one of the festival's biggest performances. Native Chicagoan Kanye West turned in a surprisingly classy set uncharacteristically free of any sort of tantrums or drama. (Maybe Fiasco taught his teacher something in return.) Rather, West focused his attention towards the city he loves, the parent he lost, and talking up his favorite person in the whole wide world. (One guess who that is).
Never one for subtlety, West's set featured a blindingly lit stage that, aside from some backing singers and sparse instrumentation, mainly served to showcase West himself. Naturally, the performance featured many of the hometown hero's best known hits, including "Gold Digger," "Jesus Walks," "Flashing Lights," and a powerful and engaging rendition of "Can't Tell Me Nothing." Yet one of the evening's most captivating moments came from West delving into a song not featured on any of his records.
Instead, West delved into a lengthy solo version of Young Jeezy's "Put On," a track West cameos on for Jeezy's forthcoming The Recession. The song perhaps best summed 'Ye up, in his view of his impact on Chicago, ("We put this city on the map / I put this city on my back"), as well as the larger scope, referring to the set as "History in the making." Most notable about "Put On," however, was West utilizing the song as a tribute to his late mother, Donda West, who died last fall from cosmetic surgery complications. Recalling his mother first bringing him to Chicago, as well as revealing an early South Side address (7915 South Shore Dr., for inquiring stalkers), West lamented playing to a crowd of "100,000″ people that was missing its one most crucial member. It was a sentiment West would revisit towards the end of his set, in the simplistic and heartfelt "Hey Mama." Given that West has moved further away from being a real person over recent years, it was refreshing to witness him expressing actual emotion to the crowd. Pity it took an event like this to make it happen.
Of course, that's not to say 'Ye was entirely modest throughout his show. All tributes and dedications to his late mother aside, West still indulged in his trademark self-indulgant boastings. In a rant that, depending on where you're sitting, is either ridiculously amusing or startlingly blasphemous, West compared himself to no less than James Brown, Jimi Hendrix, and John Lennon. But then — at a festival that took excessive heat, attendance, and scope to new levels — would any lesser claims have sufficed? (JD)
Leave a Reply