This week on the ChicagoVerseUniteD audio podcast: Davy Greenberg of Elephilms! In an interview recorded at a local cafe, Elephilms founder Davy Greenberg goes into detail about his video production operation, including how the endeavor started out, his thoughts on working with local artists, and his philosophy on making his shoots a party. Stream or download that podcast below, followed by the Greenberg-directed videos for Mike Golden & Friends' "No Name" and Kidz In The Hall's "Occasion."
ChicagoVerseUniteD is a weekly music and nightlife podcast series, hosted by Jaime Black. CVU features interviews with the premier talent and tastemakers in the Chicago music and nightlife communities, and is published through the Dynasty Podcasts network. Follow along on Facebook, Twitter, Bandcamp, Soundcloud, Mixcloud, YouTube, Vimeo, Tumblr, and Posterous.
Performance footage of psychedelic Chicago act Secret Colours at this year's SXSW has hit the web, via Davy Greenberg for Elephilms. Experience the sun and swirling sound in the clip below, immediately following the group's CVU podcast, recorded last month in Austin TX!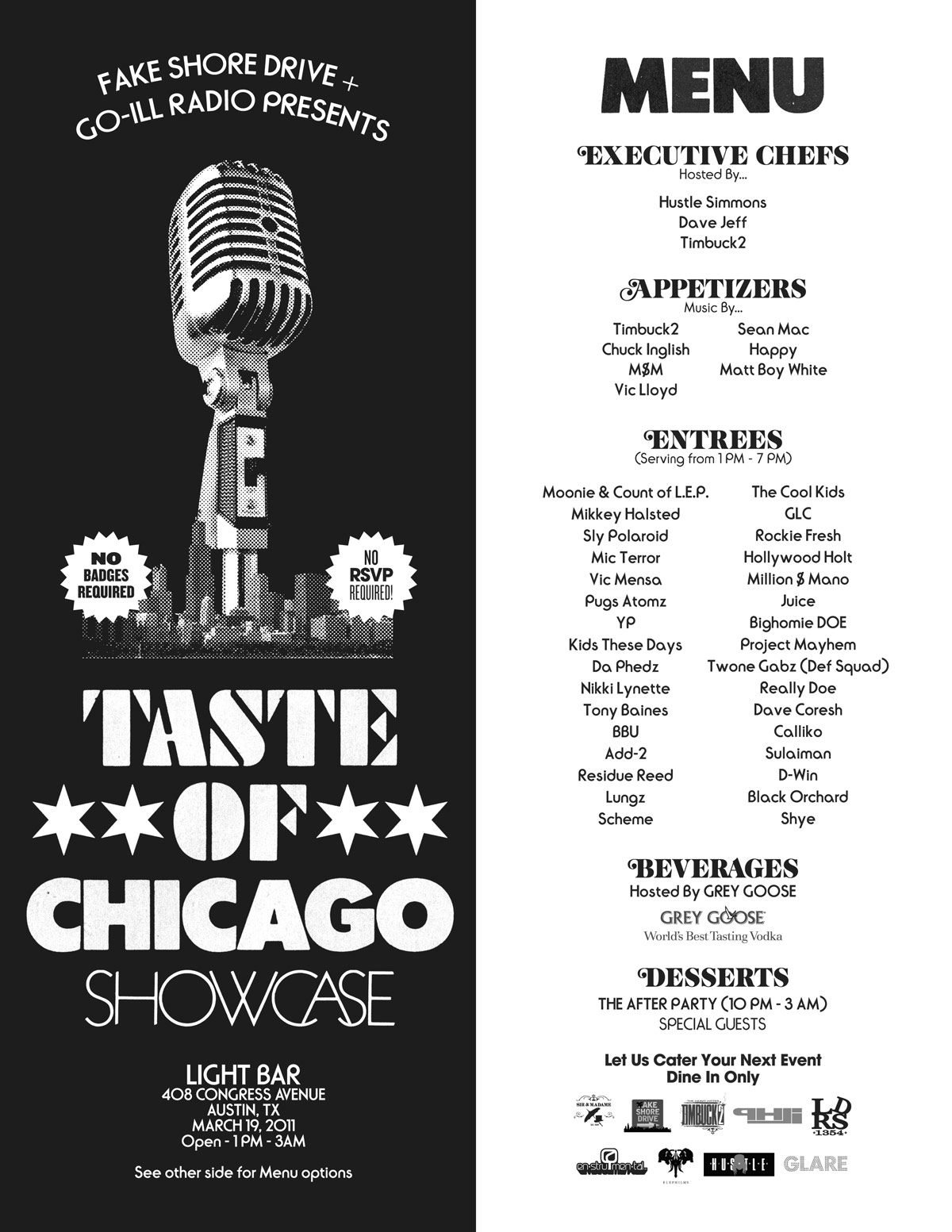 Last month, Chicago hip hop site Fake Shore Drive took to Austin, TX's Light Bar for its Taste of Chicago SXSW showcase event (see flyer above). Now, a Davy Greenberg for Elephilms directed video recap from that event has hit the web. Watch that clip below and look for appearances from Hollywood Holt, Million $ Mano, Rockie Fresh, and more.
A FSD posting promises more from the Taste of Chicago name, so watch that site for further updates!