On Friday, January 8th, Lady Gaga brought the first night of her eagerly awaited Monster Ball tour to the Rosemont Theatre by Chicago's O'Hare Airport. Find my review of the event's theatrical decadence at Illinois Entertainer's website here.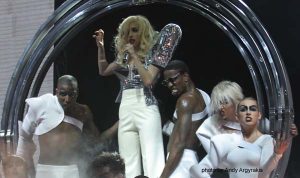 On Friday, December 18, 2009, Rise Against took to the stage at Metro to perform from the group's earliest records put out by Fat Wreck Chords, The Unraveling and Revolutions Per Minute. Find my review of the show at Illinois Entertainer's website here.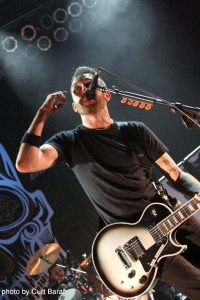 Now up at Illinois Entertainer: My feature interview with Kid Sister, wherein the Chicago MC explains the reasoning for her debut album Ultraviolet's long delay, the results of taking her time in the studio, and the uninspired state of modern pop radio. Read the feature article here and in the December issue of the Entertainer.
And, find my Kid Sis live review, of the artist's recent House Of Blues show, up now at Illinois Entertainer dot com. Plus: links to free downloadable remixes of material off Ultraviolet in my recent Deep-Bargain Bin column at The A.V. Club Chicago, as well as music from The Hood Internet and more.
My review of AFI's Crash Love tour stop at the Riviera earlier this month, up now at Illinois Entertainer dot com.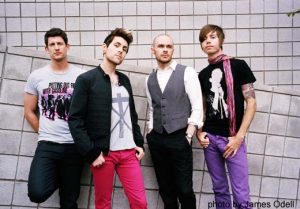 Live review of The Gaslight Anthem's second to last tour date behind The '59 Sound, Tuesday October 27th at House Of Blues. Up now at Illinois Entertainer Dot Com.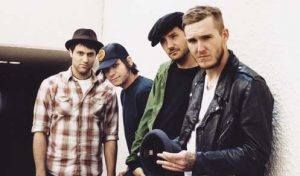 Nine Inch Nails
Aragon, Chicago
Friday, August 28, 2009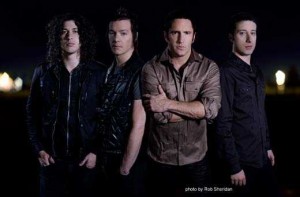 From Illinois Entertainer Dot Com
It proved apparent from the start that Nine Inch Nails' Friday night show was anything but routine when the band took the stage to "Pinion," an instrumental selection off an EP from 17 years ago. It also served as a sign that all bets were off, as Trent Reznor hit Chicago to wave good-bye, providing closure to legions of fans enthralled by every song.
The first of two Chicago farewell shows, Friday saw Reznor and co. unleashing an epic and exhaustive set that visited almost every era of his work as Nine Inch Nails, with a surprisingly strong showing of early and obscure fare. Even more surprising was just how well material off 1989's Pretty Hate Machine and 1992's Broken held up, with selections from the latter coming across just as fierce, if not moreso, than any other album's work that evening. The EP's "Wish," for example, became an attack on multiple senses, as a seizure-baiting strobe light rapidly flashed over the band, while fans shouted along to every self-destructive lyric. And "Last," one of the evening's rarer live cuts, delivered pure, pummeling hatred and self-loathing in concentrated audio form.
Throughout the show, Reznor zig-zagged throughout his two-decade-strong discography, moving from the title track of 1994's The Downward Spiral into "1,000,000," off 2008's downloadable The Slip. Some of the night was to be expected, especially in hits like "Closer" and the unrestrained chaos of "Terrible Lie," itself blending a clashing mix of crunch-laden hooks against shredding metal riffs. Less predictable was the parade of rarities and deep cuts the group consistently returned to throughout the evening, including Natural Born Killers soundtrack selection "Burn," a cut that boasts one of the meanest riffs in the band's arsenal. Reznor also ventured outside Nine Inch Nails proper in songs like the moody and tense "Banged And Blown Through," off his 2007 collaboration with songwriter and poet Saul Williams, The Inevitable Rise And Liberation Of Niggy Tardust! The most notable non-NIN moments, however, came courtesy of none other than the Godfather of Goth himself, Bauhaus' Peter Murphy, a long-time friend of the group as well as musical collaborator. Murphy crooned through and belted out a cover of Joy Division's "Atmosphere," while remaining in the stage's right balcony, before joining the band onstage for Nine Inch Nails' own Joy Division cover, "Dead Souls," off 1994's The Crow soundtrack.
While the lean and mean Reznor served as the vocal and focal point of the evening, longtime guitarist Robin Finck will go down as the unsung hero of the night, his raw and unforgiving riffs demonstrating what set Nine Inch Nails apart from so many lesser heavy acts of the last 20 years. Whether dishing out grinding guitar against the digitalized synths of "The Wretched," creating an otherworldly cacophony in the feral "Gave Up," or whipping up pure punishment in "Head Like A Hole," Finck provided the muscle and the edge on which Reznor's library so greatly relies. Reznor may have had the anger, but Finck just melted the Earth at Friday's show.
Of course, anger was but one extreme in the evening's emotional spectrum, and by the end of night, it was clear the band would exit not with a bang, but a desperate plea for help and salvation. Downward Spiral selection "Hurt," the anti-anthem closing staple of the group's live sets, still captures Reznor's hopelessness and helplessness as effectively as it first did back in the early '90s. It's a powerful statement that embodies Reznor's lowest point. But unlike fellow alt-rock icon Kurt Cobain, the Nine Inch Nails frontman pulled himself out of his sick, the end result of which manifested in the group's victorious last decade and rabidly received run of closing shows. As a sea of lighters and cellphones illuminated the room, Reznor carefully chose and quietly delivered each line, promising himself "If I could start again/a million miles away/I would keep myself/I would find a way." Yet for the first time, Reznor's words don't seem like a statement of nihilistic intent, but an acceptance of retirement, well earned and a longtime coming. Who knew Nine Inch Nails would have a happy ending?
-Jaime de'Medici
Tori Amos
Chicago Theatre, Chicago
Monday, August 3, 2009
From Illinois Entertainer Dot Com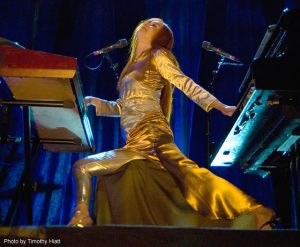 Over the last two decades, Tori Amos has become one of the most prolific recording artists to emerge from the alternative era. With 10 studio albums in addition to a box set brimming with b-sides, the piano siren's sheer output is a bit overwhelming. Especially when her 2002 album Scarlet's Walk, 2005's The Beekeeper, and this year'sAbnormally Attracted To Sin have all clocked in at at least 17 tracks each. That's not even counting 2007's American Doll Posse, a staggering 23-song production. In fact, in describing the copper-haired chanteuse, "prolific" almost seems too soft a word. 
The end result of such, ahem, ambition, is an overload of uneveness. There's no denying the impact of Amos' previous efforts; Little Earthquakes, Under The Pink, Boys For Pele, and From The Choirgirl Hotel still stand as notable, if not groundbreaking, '90s records. Unfortunately, setting the bar so high early on, the sprawl of Amos' modern output become that much harder to justify, coming across as unrestrained excess more than anything else.
All of which has bled over into Amos' live show. As a performer, the singer/pianist is still in a class by herself. Theatrical, otherworldly, strangely hyper-sexual, and continually disarmingly intimate, the she crafts a performance that is undeniably her own. Alas, even the most unique performance is only as engaging as its material.   
Clad in a gold-and-silver costume complete with cape, Amos hit the Chicago Theatre Monday night looking like one of the Avengers by way of American Apparel. The performance found her in town behindSin, an album drenched in spacy echo and reverb that comes across as a companion piece to 1999's To Venus And Back , with the mature AC of Scarlet and some Choirgirl aesthetic thrown in for good measure. It's a combination that covers territory familiar to the singer's earlier material, but lacks the connection made through those previous albums. Live, Sin didn't fare much better. Even those that presented an interesting idea, such as "Lady In Blue," which channels a the spirit of a mournful cabaret piano bar, overstayed their welcome. Similarly, the muddy "Police Me" ultimately proved aimless and teetering.
Fortunately, and not surprisingly, Amos' earlier material continued to stand the test of time, with the Chicago Theatre proving the perfect venue. With its superior acoustics, the room quickly established itself as the third most important instrument throughout the evening. Amos has mastered utilizing her voice in countless ways to various effects, from breathy and overstated throughout "Cornflake Girl" to dramatic and exasperated during "Bouncing Off Clouds," where Amos belted out "We could be bay-OUNcing off the top of these clow-eee-ouds!" But nowhere did the room and the singer's voice stand out more than "Leather," wherein Amos barely let out a hushed whisper of the track's chorus. It was a slow, deliberate, and sparse technique, yet one that resonated throughout the theater to impressive effect. Later, during the rambunctious and engaging show-closer "Big Wheel," Amos took her set to the opposite extreme, belting out a declaration of "I am an M-I-L-F," which the crowd quickly followed up with "Don't you forget!" Elsewhere, the singer toned town the theatrics for "Josephine," a more majestic and less showy piano piece. Likewise, "Pandora's Aquarium" proved a showing of Amos' restraint, resulting in a more jazzy, shuffled production, while "Northern Lad" came across elegant and vulnerable.
– Jaime de'Medici
Brand New
Subterranean, Chicago
Tuesday, July 7, 2009
From Illinois Entertainer Dot Com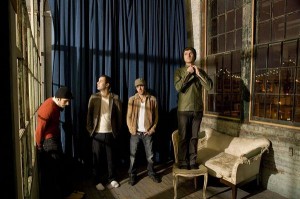 In the first half of the decade, a new class of sensitive artists emerged and were quickly embraced by wristband-clad teenagers everywhere, epitomized by vulnerable acts like Chris Carrabba's precious, whisper-laden Dashboard Confessional. Yet among all the new sensitivity and tales of boys with broken hearts, Levittown, New York's Brand New stood out. The group consistently ventured into darker territory than their peers, due in no small part to frontman Jesse Lacey's tendency to channel some truly tortured and personal demons. 
Last night's sold-out Subterranean show put those same demons front and center, on display to a thoroughly packed house. Lacey and the group, minus guitarist/keyboardist Derrick Sherman who missed his flight, immersed themselves in the spirit of their music, never once letting up. With no real predetermined setlist, the group delivered a performance all at once spontaneous, assaultive, and unquestionably sincere. Not surprisingly, the set's raw emotion was rabidly received by a room of faithful devotees. The sheer volume of full-venue sing/shout-alongs alone proved there was nary a fair-weather fan in the house.
As if to reward such undeniable enthusiasm, the group presented a set full of surefire crowd-pleasers. By the second song, they unleashed the breakout fan favorite "The Quiet Things That No One Ever Knows," uniting the room as the crowd united in declaration, with a call of "I! Lie! For! Only you!!" It wouldn't be the last such moment of synchronicity. During the dour and severe "Sowing Season (Yeah)," Lacey howled out the song's cruel notice of "I am not your friend, I'm not your lover, I'm not your family," straining to be heard over a room of agreeing voices. Of course, other moments found the house shouting out loud to a song's every single lyric and verse, as was the case with the feedback-marked and reverb-drenched "Okay I Believe You, But My Tommy Gun Don't."
While crowd response may have proven consistent, the show's tone proved more extemporaneous. The mellow, if not downright despondent "Jesus Christ" would soon give way to the positively pop-punk "Jude Law And A Semester Abroad," itself all loose, fast abandon and quickly crashing cymbals throughout the chorus. And newer material, off the group's forthcoming And One Head Can Never Die, proved just as disparate. One such selection, titled "Bride," unleashed surprisingly jarring, chugging riffs and an an ominous tone, channeling a more tuneful Tool with its unbridled bluster and fury. Similarly, "Gasoline," another Head selection, proved simultaneously jagged and rabid, with Lacey shrieking every word as feedback masked the song's main riff and drumsticks practically sparked upon impact.
Yet in a show whose only constant was a range of wildly contrasting emotions and approaches, Brand New's closing selection best embodied the group's aesthetic, if not reason for existing. "Soco Amaretto Lime," the outfit's defining adolescence anthem, came across profoundly personal, if not slightly bittersweet, as a crowd who are no longer the teenagers they once were, joined an anthem idealizing being "18 forever." As Lacey stood alone onstage, performing with just a warbling electric guitar, he closed the evening repeating "They're just jealous 'cause we're young and in love," before adapting to "I'm just jealous cause you're young and in love," to simply just "'Cause you're young and you're young and you're young and you're young." Confessional, indeed.
- Jaime de'Medici
Passion Pit, Harlem Shakes live
Empty Bottle, Chicago
Sunday, June 14, 2009
From Illinois Entertainer Dot Com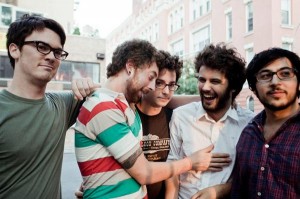 On the surface, Passion Pit are seemingly doing everything right. A synth and keyboard-heavy outfit, the group invite instant comparisons to last year's heatseekers MGMT. What's more, blogs across the Internet are heaping wild praise upon the group, with remixes of songs from the band's recent Manners (Frenchkiss) record beginning to pop up even quicker. And this past Sunday's performance at Empty Bottle has been buzzed-about and sold-out for months. It's no wonder the group aren't messing with a winning formula.
Their Chicago performance was a crowd-pleaser, to be sure. The act dove right into everything the room loved aboutManners, with frontman Michael Angelakos' constant falsetto quickly becoming the performance's unmistakable focal point. Keys, synths, and samples dominated the set at piercing volumes, transforming into digital bells and chimes for "Moth's Wings," a track that inspired handclaps throughout the crowd. The chorus of "Make Light" become a squealing siren, blasting out of a sped-up, driving, repeated bassline. Elsewhere, it became impossible not to view "Little Secrets" as this year's answer to Justice's blog-smash "D.A.N.C.E.," especially with the track's repetitive, if not derivative, sample of children continually repeating "I am, I am" in the chorus. Little surprise, the song was instantly, fervently, and unanimously received.
To Passion Pit's benefit, not every selection adhered to the surefire formula. "Let Your Love Grow Tall" provided one of the only distinguishable moments of sincerity, with Angelakos solemnly pleading, "So I'll pray for them and I'll pray for you, 'til my face turns blue." And "I've Got Your Number," off the group's 2008 Chunk Of Change EP, carried a bit more of a rock tinge, with the frontman venturing outside his otherwise-standard falsetto, providing some much needed versatility to the show.
Yet while Passion Pit primarily stuck to the script, openers Harlem Shakes played in a much larger sandbox, incorporating tambourine, maracas, and, most effectively, jaunty saxophone, all to great effect. A six-man operation, the group unleashed loose grooves over drummer Brent Katz's tight rhythms. Drawing from Technicolor Health (Gigantic), they careened through the excellent yet unassuming "Winter Water," coming across massive, loose, sloppy, and forceful. "Sunlight" proved infectious, putting singer Lexy Benaim's slightly nasal vocals at the forefront of the song, with surprisingly pleasing results. And on the title track, the group displayed a muted but effective swagger, while still remaining pretense-free. It was the kind of spontaneity Passion Pit seemingly never considered, instead opting for immersing themselves entirely in proven, hipster-approved broadstrokes. Then again, giving the people exactly what they want clearly hasn't hurt the band yet. Why mess with success?
– Jaime de'Medici
Death Cab For Cutie
WTTW Soundstage, Chicago
Thursday, April 16, 2009
From Illinois Entertainer Dot Com
Given where Death Cab have landed in their career, their appearance on a program like WTTW's "Soundstage" seems fitting. The established-artist showcase syncs up with the group's continual march from former indie darlings to mature, adult-alternative act, as evidenced on 2005's Plans as well as last year's Narrow Stairs. Thus, it only made sense that the outfit would focus entirely on their recent and more musically ambitious and realized material, while steering clear of simpler and more-innocent earlier indie fare.
Taking the stage before a well-dressed and even better-behaved studio audience, the Bellingham, Washington act performed against five screens of abstract video footage, set between maroon curtains. The group moved freely through their most recent offerings, even dipping into the recently released The Open Door EP (Atlantic), though never venturing further back than 2003's Transatlanticism. Instead, Death Cab presented fully realized versions of their more serious, heady material. Occasionally, frontman Ben Gibbard offered awkward banter between songs, proving the frontman a better vocalist than conversationalist.
Fortunately, such moments were few and far between. The majority of the time Gibbard opened his mouth, it worked in his favor. The newer "My Mirror Speaks" proved one of the more melodic Death Cab selections in recent memory, with undeniable verses effortlessly providing the heavy lifting. Elsewhere, Gibbard turned "The Sound Of Settling" into more of a straightforward rock venture than its recorded pop counterpart, as drummer Jason McGeer populated the song with a single repeating and clashing cymbal. And Narrow Stairs highlight "Your Heart Is An Empty Room" proved infectiously uptempo, even dipping into a low hush midway through before quickly rising back to full instrumentation.
Often, selections displayed noticeable enhancement from their album incarnations. "The New Year" came off especially charged, simultaneously emphasizing the studio's sweeping, pristine sound. Later, bassist Nick Harmer delivered additional muscle to the typically understated "Summer Skin." And the upbeat and excited "Long Division" showcased incendiary guitar interplay between Gibbard and guitarist Chris Walla, building up to a frenzied, cacophonous bridge.
As Death Cab's predilection for experimental jamming has become increasingly apparent over the years, it seemed a given that the group would venture into more extended territory. Throughout its ever-expanding instrumental intro, Harmer took a reverb-soaked version of "I Will Possess Your Heart" for a bass-led walk down a long and winding pier. And spacious closer "Transatlanticism" grew from the song's familiar and echoing backing track, whirring out of speakers above the stage. With the room's lights dimming to match the selection's mood, the group moved into an extended jam, as the song unspooled its epic sprawl. What began as a tender offering, featuring Gibbard visiting keys for a portion of the track, soon built to an overpowering showing, with McGeer banging away while the song amassed surprising volume and speed. Yet almost as quickly as the track reached a passionate plateau, the outfit caught themselves and allowed the ambitious venture, not to mention their set, to fade out, humming. And while the evening's ending may have felt abrupt, the group knew enough to make what time they had count, delivering a set full of layered and accomplished offerings. After all, they are professionals now.
– Jaime de'Medici