(Photo via Mad Lab Photography)
Exclusive here at CVU is HQ video of Team Bayside High's recent live performance with Show You Suck and Hollywood Holt. The performance comes from TBH's headlining set Friday, August 31st at North Coast Music Festival, and features the MCs joining the DJ team for "Get Buck," Bayside's recent collaboration with Holt. Watch that performance below, followed by a download of the track. And watch for more North Coast 2012 content to post this week at CVU.
(Video filmed and produced by Colleen Mares of The Axis World and Lewis & Clark.)

(Photo via Everyone Is Famous)
Hollywood Holt has released a new song titled the "The Show" via MP3 and video, with the latter a product of Chicago's Elephilms. The funky party jam is produced by longtime Holt collaborator and up-and-coming Chicago producer Million $ Mano, and can be downloaded by clicking through on the link below, or watched in the YouTube following the track.
Chicago hip hop source Ruby Hornet has posted a video revisitng the site's SXSW party from earlier this year. The event celebrated the release of Ruby Hornet's Closed Sessions: ATX record, which was recorded at SXSW in 2010 and features a wealth of underground and emerging hip hop talent. Watch that clip below, featuring testimonials and performance footage from hometown acts including Mic Terror, Kids These Days, Hollywood Holt, Scheme, YP, and more, immediately following the CVU podcast featuring Ruby Hornet's Virgil Solis and DJ RTC, recorded at SXSW 2011 in support of CS: ATX!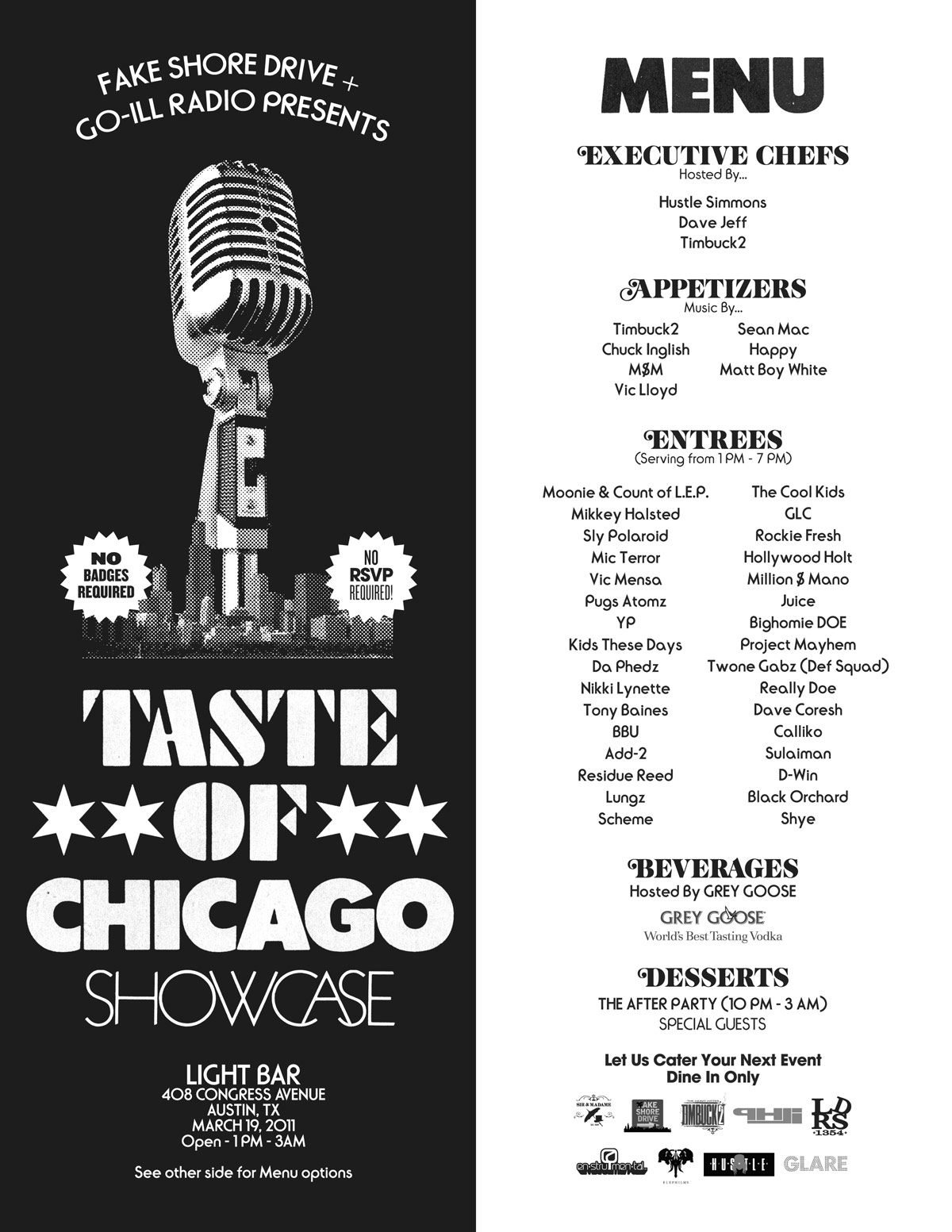 Last month, Chicago hip hop site Fake Shore Drive took to Austin, TX's Light Bar for its Taste of Chicago SXSW showcase event (see flyer above). Now, a Davy Greenberg for Elephilms directed video recap from that event has hit the web. Watch that clip below and look for appearances from Hollywood Holt, Million $ Mano, Rockie Fresh, and more.
A FSD posting promises more from the Taste of Chicago name, so watch that site for further updates!